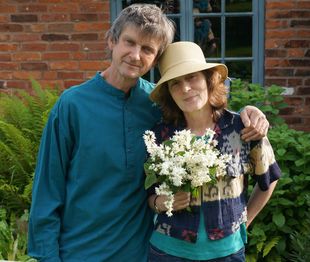 The Designers
Brixton Pottery is designed by Alex and Tania Dufort from their rural retreat in Mid Wales and made in the EU. They started designing in 1987, and have so far accumulated a portfolio of about 500 spongeware designs, and 60 pottery shapes, making a total of 30,000 possible products.
4,000 years of history
The technique of spongeware probably originated in Crete 4,000 years ago.
The museum in Heraklion has a wonderful display of Minoan ceramics, some of which are clearly decorated with sponge stippling. Much of the Delft pottery on display in the Victoria and Albert museum shows sponge decoration, but it was not till the 19th century that decoration using intricately cut sponges became at all widespread.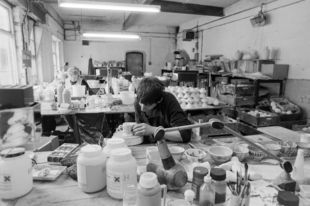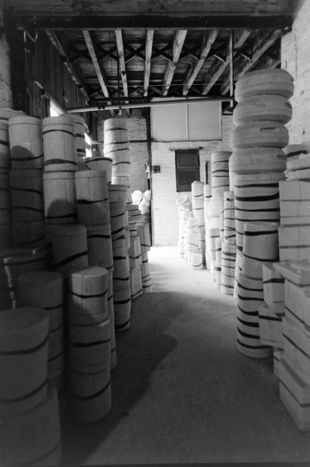 Traditional techniques
Fine root sponges were carefully cut into floral, leaf and geometric shapes, dipped in coloured oxides, and applied to the biscuit pottery. The effect produced was very similar to potato printing.Complex repeat patterns were easily achieved, and the spongeware technique developed throughout the nineteenth century. Apprentice workers were thus able to produce elaborate and highly decorative pottery. Sponge decoration could be applied to all sizes and shapes of pottery, and allowed factories to decorate individual pieces without having to have bespoke transfer engravings for each piece.
Brixton Pottery is made by techniques that have remained unchanged for the past 170 years. The liquid clay is poured into a plaster mould 11% larger than the finished piece. The liquid is left in the mould for 45 minutes, being topped up from time to time as the plaster absorbs water. At the end of the 45 minutes, the mould is tipped, and emptied, but for the film of clay adhering to the inside. This forms the piece of pottery, which is removed, dried, decorated and fired
This technique is also used by many potteries in the Staffordshire ceramics industry, including Bridgewater and Portmeirion.
Hand Decoration
Because Brixton Pottery is hand made, colours and decoration on the pottery you receive may differ slightly from the photograph online. In particular, the spacing of the sponge decoration may differ, and motifs may overlap. If you are not completely satisfied with any Brixton Pottery purchase, we will be happy to make you a refund.